Black backpack the essential bag
After a cold winter we can't resist the draw to get outside in the warmer weather or take a quick weekend trip to heat up. Backpacks are perfect for hiking, day trips and quick mini-trips. Especially ones with many pockets, soft padded straps and convent compartments. Black backpacks are ideal for daily use and traveling since they are easy to clean and have functionality. 
The Rockwood 19" TSA-friendly Tech Travel Backpack is slightly oversized, our largest black backpacks which is perfect for that quick getaway. Its unique flat lay design is TSA friendly, perfect for unfolding freely at checkpoints allowing you to navigate swiftly through airport security without removing any electronics. The backpack includes a large main compartment that is great for books, change of clothing and any other large items you may have. There is also a second large compartment, a laptop compartment, a tablet sleeve, and 4 mesh zip pockets for accessories like flash drives or cables. The bag also includes a padded top handle, padded and adjustable shoulder straps, and a padded mesh back panel for comfort. There is also a piggyback strap that lets you safely attach the backpack to a luggage handle for traveling convenience. This bag is truly one that everyone needs to own; not only is it perfect for traveling, but it's great for everyday activities and can be taken with you anywhere.
The Black Refugee 1680 Denier Backpack is the perfect travel companion for any person on the go. This backpack in black is made from 1680 Denier ballistic nylon that is lightweight but durable and is resistant to punctures, tears, and abrasions. It features a side-entry laptop compartment that allows easy access to a laptop up to 15". There is an interior organizer that provides additional storage and sorting. The three outside zip pockets are perfect for storing snacks, small water bottle and cell phone for easy access on your day trip.  The padded back panels take the stress off your back- ideal for exploring a new city, traveling or backpacking.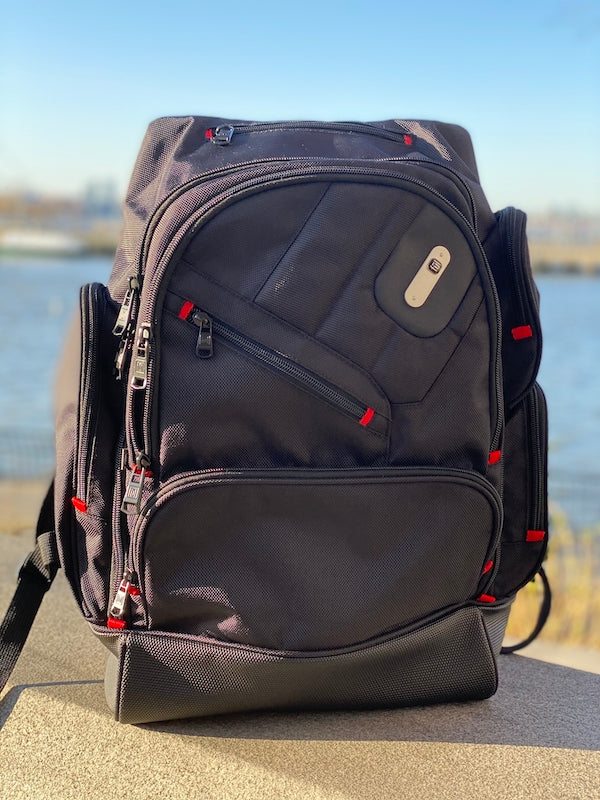 Backpacks are probably one of the most practical things to own due to their comfortability and hands-free usage. They are commonly used by hikers, day trippers, students, business travelers, commut...
Read more
Star Wars is one of the greatest American multimedia franchises, which first came on the screens in 1977. Since its debut on the big screen, multiple sequels have followed due to popularity, creat...
Read more